Bead Block® is an embolic device intended for the purpose of embolizing the blood vessels of a variety of hypervascularized tumors and arteriovenous malformations. Bead Block® is a preformed, deformable microsphere consisting of a biocompatible, acrylamido polyvinyl alcohol macromer.
Bead Block® compressible microspheres are used in embolization therapy. This is a minimally invasive (non-surgical) procedure performed by an interventional radiologist. By blocking the blood supply to the target area, the tumor or malformation is starved of nutrients and shrinks in size.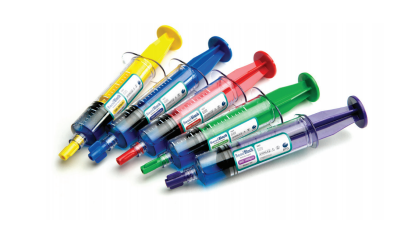 Bead Block® microspheres are produced from a biocompatible polyvinyl alcohol hydrogel. The microspheres are tinted blue for easy visualisation and are supplied in pre-filled color coded syringes for added procedural safety and efficiency.
 The unique structure of Bead Block® – PVA hydrogel cross-linked with acrylic polymer – ensures smooth delivery and targeted embolization.
Bead Block® is precisely calibrated to offer reliable and consistent size distribution and predicable embolization.
Compressibility with Rapid Shape Recovery
Bead Block® can be temporarily deformed to facilitate smooth passage through the catheter lumen.1
Bead Block® rapidly returns to its spherical shape once delivered from the catheter, facilitating travel to the target vessel and effective embolization at the endpoint.1
Studies show that, unlike other embolics, Bead Block® does not aggregate or fragment, either of which may compromise the embolization endpoint.2
Bead Block® embolic agent offers:
Proven performance for the embolization of hypervascular tumors and arteriovenous malformations (AVMs)
Blue-tinted beads, in pre-filled, color-coded syringes for added convenience and safety
Precisely calibrated sizing for effective and accurate embolization
Compressible spherical embolic with 100% elastic shape recovery for easier delivery
Confidence of product and clinical support from BTG – leaders in embolization technology
Embolization of hypervascular renal tumors in combination therapy
Bead Block® embolic agent offers the benefits associated with targeted occlusion of renal vessels and is ideally suited for super-selective arterial embolization. Recent studies3-6 have demonstrated that super selective embolization of renal tumors prior to resection or ablation may offer the following benefits:
Preservation of renal function
Reduced RFA heat sink effect
Reduced probability of bleeding
Eliminate the need to clamp renal vessels